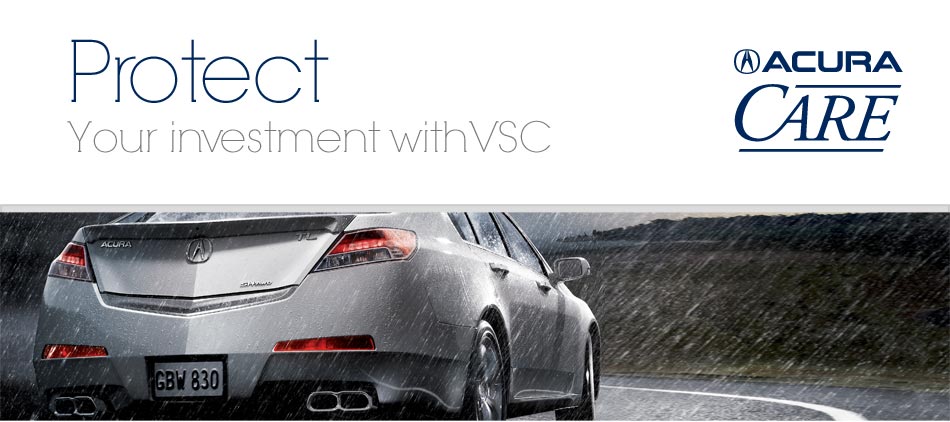 AcuraCare Vehicle Service Contracts (VSCs) Keep You Covered - Part by Part.
Acura Care VSCs can cover repairs for virtually every component* of your vehicle even after the original factory warrantyhas expired. If anything should go wrong in the vehicle's drivetrain, the navigation system, even the stereo, Acura Care can cover the repair, potentially saving you thousands of dollars as illustrated below. That is the peace of mind you can have knowing you are covered for the unexpected.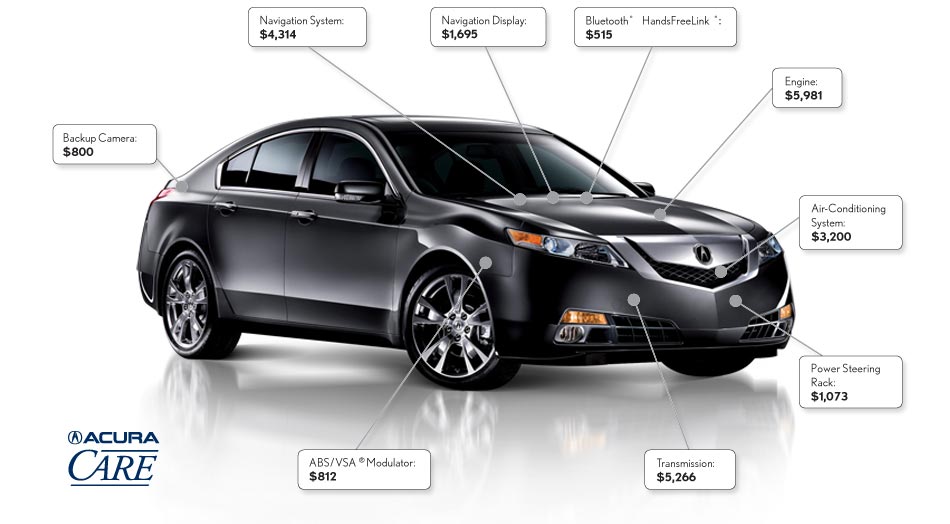 Features & Benefits
of the Acura Care Vehicle Service Contract
Roadside Assistance
Should the need arise, we'll be there to help you on your way. With Acura Care, you just "sign & drive."
24-hour roadside assistance
Towing 3
Lockout service
Battery jump-start
Tire change
Fuel delivery 4
Commercial Coverage
Commercial-use coverage is available for your new Acura vehicle. Ask for details.
Quality Service
Should the need arise, we'll be there to help you on your way. With Acura Care, you just "sign & drive."
Factory-trained Acura technicians at authorized Acura dealerships
Acura Genuine and Acura-authorized parts
Concierge Emergency Service 1, 5
Should the need arise, we'll be there to help you on your way. With Acura Care, you just "sign & drive."
Urgent message relay
Emergency cash advance
Emergency airline tickets
24-hour weather information
Special emergency assistance
Insurance-claim assistance
Auto glass replacement referral
Shipment of personal replacement items
Interest-Free Payment Plans
Did you know that there are special interest-free payment plans available? Ask for details.
Rental-Car Reimbursement
Acura Care will reimburse you up to $45 a day for up to 6 days, should your Acura require any covered repairs.
Trip-Interruption Benefit 1
If your Acura needs repair when you're more than 100 miles from home, Acura Care willprovide up to $100 a day, for up to 3 days,for meals and lodging.
Transfer Conditions
Acura Care coverage is transferable.
Personalized Travel Plan 1, 6
Spend more time sightseeing and less time map reading with these services, offered atno additional charge:
Custom computerized maps
Directions for the fastest or most scenic routes
Estimated driving time with distances between stops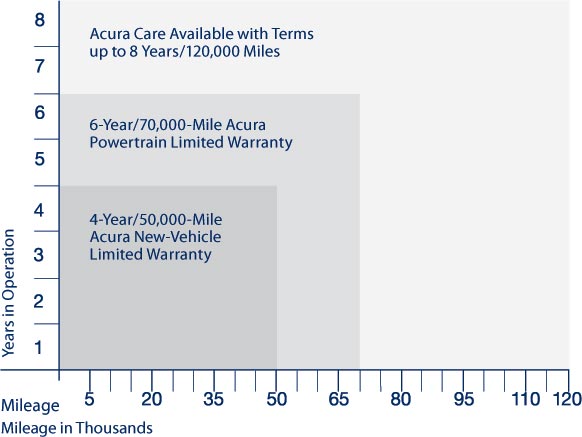 Note: Coverage for a new plan begins when the vehicle is originally put into service and at zero miles. Coverage for a pre-owned plan begins on the VSC purchase date and at the mileage on the odometer on that date.
Note: Acura Total Luxury Care program (TLC) is a collection of special services, which is effective during the 4-year/50,000-mile new-car limited warranty.
1. Cross Country Motor Club is solely responsible for the listed benefits, except in Florida. This document is intended to provide an overview of these benefits. Actual terms may vary. See your contract or membership kit for complete details.
2. Up to $100 per occurrence. Does not include parts.Towing is available when the vehicle is unable to proceed safely (due to a mechanical failure, accident, etc.).
3. Towing will be provided to the nearest Acura dealer or any licensed repair facility.
4. Excludes natural-gas vehicles.
5. Concierge service is not available in Florida.
6. Available only in the U.S. and Canada.